100 Years of Alaska's Legislature
"From Territorial Days to Today"
---
1st Territorial Legislature
---
Territorial Legislature Organizes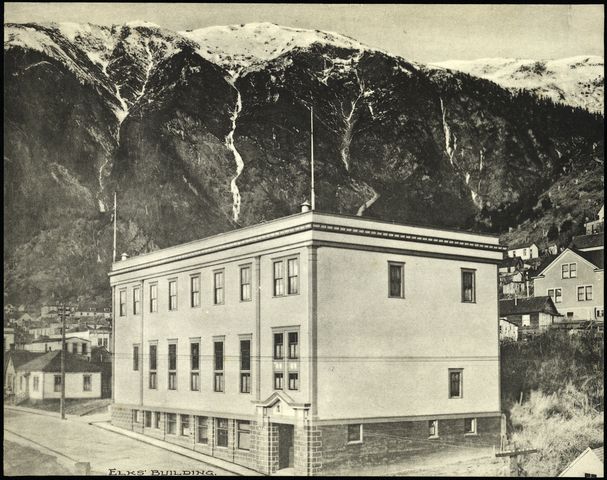 Session Information
1st Regular - March 3, 1913 - May 1, 1913

Senate Members
House Members
First Territorial Legislature Convenes
Congress passed the Second Organic Act in 1912, creating the Territory of Alaska and the Territorial Legislature. The territory was comprised of four judicial districts - each having four representatives and two senators. The first 24 Territorial Legislators hailed from Candle, Douglas, Fairbanks, Fox, Iditarod, Juneau, Katalla, Ketchikan, Knik, Nome, Ruby, Seward, Sitka, Skagway, Valdez and Wrangell.
Much to the disappointment of most Alaskans, the federal government maintained control of Alaska's resources and numerous other matters. Nonetheless, on January 7, 1913, four Nome Legislators hitched up their dog teams and headed for Valdez. En route, they picked up Ruby's new Legislator, and on February 13, the five arrived in Valdez where they boarded a steamship to Juneau to attend the first Alaska Territorial Legislature, which convened on March 3, 1913. Alaska Legislators were paid $15 per day while in session plus $0.15 per travel mile.
The very first act of the Legislature was to give women the right to vote, seven years before the Nineteenth Amendment to the U.S. Constitution was ratified by the states. In its first session, the Territorial Legislature passed 84 bills, which addressed a variety of issues. For example, Legislators:
Established compulsory education for children aged 8 to 16.
Promulgated mine safety codes, mine inspection and mining claims procedures, and created the Office of Mine Inspector.
Amended the criminal and civil codes.
Provided for the regulation of banks and corporations operating in the Territory, as well as rules for negotiable instruments and other types of contracts.
Required the registration of vital statistics with the Territory.
Imposed a business tax.
Established the first Pioneer Home in Sitka for elderly miners.
Required lobbyists to register with the Secretary of the Territory.
Created the Boards of Pharmacy, Medical Examiners, and Dental Examiners.
Instituted a poll tax of $4 for every male person between the ages of twenty-one and fifty.
Beyond the Legislature
The first crossword puzzle is published.
Panama Canal is completed and opens in 1914.
Woodrow Wilson is inaugurated as the 28th president.
Igor Stravinsky's The Rites of Spring is first performed in Paris, France.
The Sixteenth Amendment to the U.S. Constitution is ratified, authorizing Congress to impose a federal income tax (1913).
SPEAKER OF THE HOUSE
Earnest Collins