100 Years of Alaska's Legislature
"From Territorial Days to Today"
---
---
The Beginning of Statehood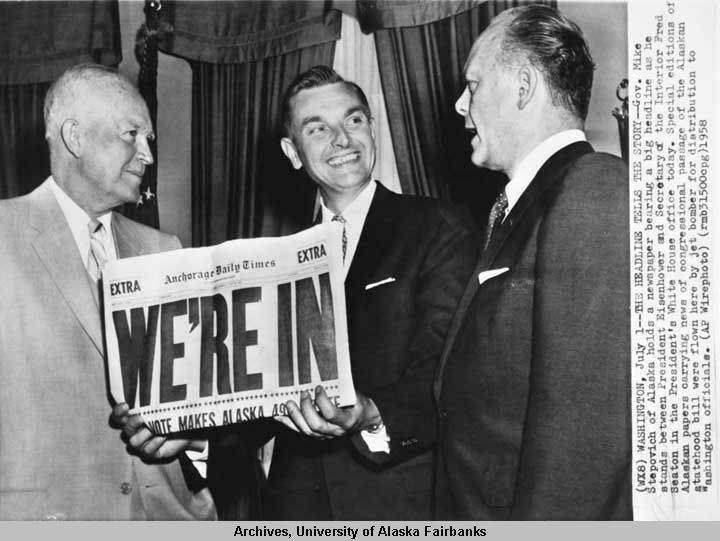 Session Information
1st Regular - January 26, 1959 - April 16, 1959
2nd Regular - January 25, 1960 - March 29, 1960

Total Legislative Days: 146
Bills Introduced: 733
Bills Passed: 387
Senate Members
House Members
The First Legislature Convenes
The first Alaska State Legislature convened on January 26, 1959, three weeks after President Eisenhower signed the Statehood Proclamation. Lawmakers quickly turned their attention to the organization of state government and passed the State Organization Act of 1959, which created 12 executive departments: administration, law, revenue, health and welfare, labor, commerce, military affairs, natural resources, public safety, public works, education, and fish and game. The 1st Legislature also accomplished the following:
Created the Supreme Court as well as superior and district magistrate courts.
Established the Alaska Public Employees' Retirement System (PERS).
Prohibited commercial fish traps.
Passed the Alaska Lands Act.
Created the seal of the state.
Set the drinking age at 21.
Permitted women serving as waitresses in restaurants to serve alcohol.
Established numerous professional licensing boards.
Established a minnimum wage of $1.50 an hour.
As federal government functions transferred to Alaska, policymakers were optimistic that federal transitional grants, existing funds, and the opportunity to select 104 million acres of land, would be enough to fund the transition to statehood. The governor and lawmakers soon realized, however, that statehood brought higher costs than had been anticipated and, in 1960, the Legislature together with the Alaska State Planning Commission completed the first accurate financial assessment of the new state government. While the next Legislature would need to address the financial crunch, the promise of oil and gas discoveries in Cook Inlet and an expanding timber industry offered some bright spots.
Beyond the Legislature
First major gas discovery in Cook Inlet.
First competitive offshore Cook Inlet lease sale occurs in 1959.
Alaska's population reaches 226,167.
State's petroleum revenue increases to almost $10 million in 1960.
On February 20, 1960, the Governor appoints Nora Guinn as the first Native magistrate.
First optical laser is operated at the Hughes Research Laboratories in California.
USSR's Sputnik launches carrying two dogs.
SPEAKER OF THE HOUSE
Warren Taylor
SENATE PRESIDENT
William Beltz