100 Years of Alaska's Legislature
"From Territorial Days to Today"
---
8th Territorial Legislature
---
Birth of Alaska's Flag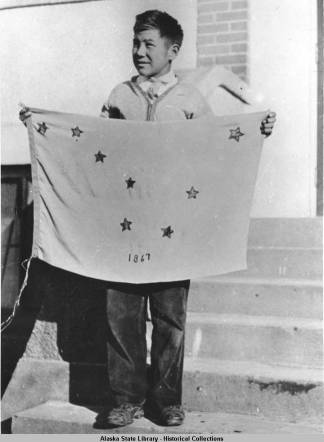 Session Information
1st Regular - March 7, 1927 - May 5, 1927

Senate Members
House Members
Benny Benson Wins the Contest to Design the Alaska Flag
The 8th Territorial Legislature adopted the Alaska flag design which had been selected in a contest for Alaska students the previous year. The winning design, submitted by 13-year-old Benny Benson, a part-Aleut young man, consisted of eight gold stars on a field of blue, representing the Big Dipper and the North Star.
Other legislation enacted in 1927 accomplished the following
Set a school day of not less than four hours for first and second grades and five hours for all other grades;
Repealed the license tax on fur farming;
Allowed incorporated towns to receive 85 percent reimbursement for maintenance of schools;
Authorized town councils of incorporated areas to confer upon municipal magistrates by ordinance limited jurisdiction in civil cases;
Placed a bounty on hair seals;
Authorized first class cities to establish and build streets, sewers, and public improvements, and to levy and collect assessments; and
Provided for the erection in Sitka of a monument to commemorate the transfer of Alaska to the United States.
Beyond the Legislature
Charles Lindbergh makes the first trans-Atlantic flight (1927).
Leon Trotsky is expelled from the Soviet Communist Party leaving Joseph Stalin with undisputed control of the Soviet Union (1927).
The U.S. Federal Radio Commission (later renamed the Federal Communications Commission) begins to regulate the use of radio frequencies (1927).
The Meriam Report, conducted by the Institute for Government Research (which becomes the Brookings Institution), finds that the U.S. government is failing at its goals of protecting Native Americans, their land, and their resources, both personal and cultural (1928). It is the first major report to document and bring to the nation's attention the plight of Native Americans. The report is also highly critical of American Indian education.
Herbert Hoover is elected President of the United States in 1928.
SPEAKER OF THE HOUSE
Sumner Smith
SENATE PRESIDENT
Bartley Howard